Ecommerce is a big word that you may hear often. But for many, it's still an elusive term. One that seems to refer to every transaction that happens on the web.
Or doesn't it? What is ecommerce exactly? Is it just a synonym for Amazon, eBay, and the App Store?
Ecommerce means more than online shopping. It represents a complex system of financial transactions and data exchanges.
In this post, we're going to define ecommerce and explain it in all its nuances.
We'll review its history, development, and pros and cons. We'll consider its far-reaching impact. Not just online, but on our lives.
Why does this matter?
Maybe you have your own ecommerce business or plan to start one. Or perhaps you love to shop online.
Either way, the new insights you'll gain will prove valuable. They will help you navigate the world of ecommerce with more confidence. And they will help you make the right decisions.
But first…
Is it ecommerce, e commerce, eCommerce, e-commerce, or e-Commerce?
These different spellings can give rise to some confusion. But each term refers to the same thing – the buying and selling of goods online.
Judging by the total number of Google search results, "ecommerce" is the most widely used spelling. So we'll stick to it.
Now back to the definition of ecommerce… What does ecommerce stand for?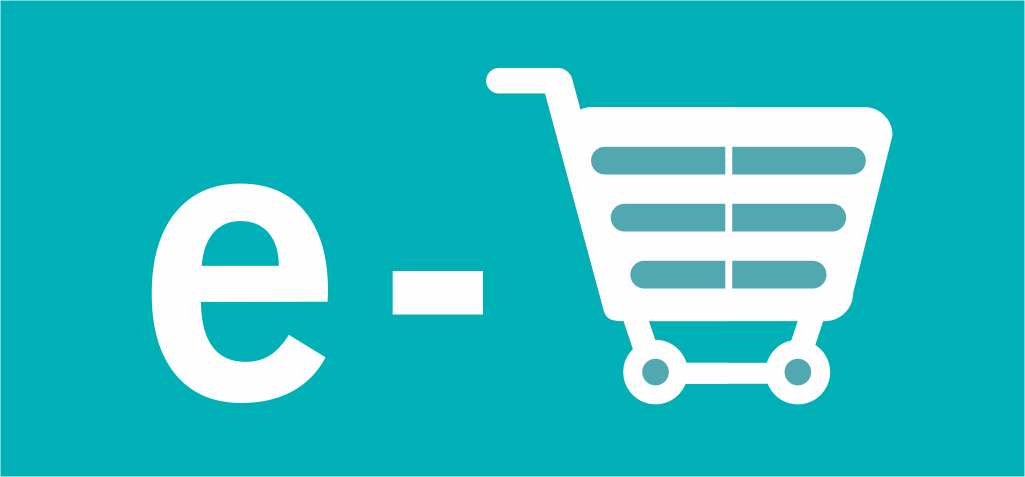 A Simple Definition of Ecommerce
Ecommerce stands for electronic commerce or internet commerce. It denotes the sale of all goods and services over the internet.
Ecommerce encompasses a multitude of data, systems, and tools. It includes mobile shopping and payment encryption. It reflects the complete store owner and shopper experience.
The online storefront shoppers use is only the tip of the iceberg. Simple though it seems today, ecommerce rests on a complex system that evolved over many years.
In its broadest sense, ecommerce refers to all transactions carried out through the internet. These include business to customer (B2C), company to company (B2B), and customer to customer (C2C) transactions. More about this in a bit.
But first, there's one aspect of ecommerce that can shed light on all the others. Its history.
When did ecommerce begin?
The History of Ecommerce
English inventor Michael Aldrich coined the term "ecommerce" back in 1979 when he invented the first online shopping system.
But the history of online shopping goes back to the early 1970s, when MIT and Stanford students in the ARPANET (the network which was later to evolve into the internet) arranged a cannabis sale.
According to most sources, however, the first official online transaction took place on August 11, 1994. That's when one man in the US bought a Sting CD from his friend through the NetMarket retail platform. This event ushered in the age of Amazon and eBay.
As websites and web browsers became more sophisticated, online stores grew and began to offer a wide variety of products. Ecommerce platforms such as Magenta, BigCommerce, and Shopify simplified the process of creating an online storefront.
They made it possible for even small, independent retailers to sell their goods online, not just in their country, but all over the world.
Why does electronic commerce benefit small firms? Because it reduces costs and increases reach. It makes their products easier to discover.
Ecommerce has benefitted not only sellers and customers but also freelancers and marketers. It has helped to create a larger, more vibrant freelance market.
Add to that the convenience of shopping for a virtually unlimited supply of goods, easy price comparisons, and fast shipping. It's easy to see then why ecommerce sales in 2026 will likely surpass 8.1 trillion dollars, up from 5.7 trillion dollars in 2021.
The Ecommerce Timeline: The Rise of Online Shopping
The rise of ecommerce is closely linked to the development of the internet. Interestingly, the first system that allowed for the listing of items and their purchase by card saw the light of day before the first web browser.
That was back in 1989. But it would take a few more years before ecommerce stores as we know them today began to appear.
The timeline of ecommerce is the history of online shopping. It charts the development of ecommerce from its early days to the present.
Discover now the key events in the history of ecommerce.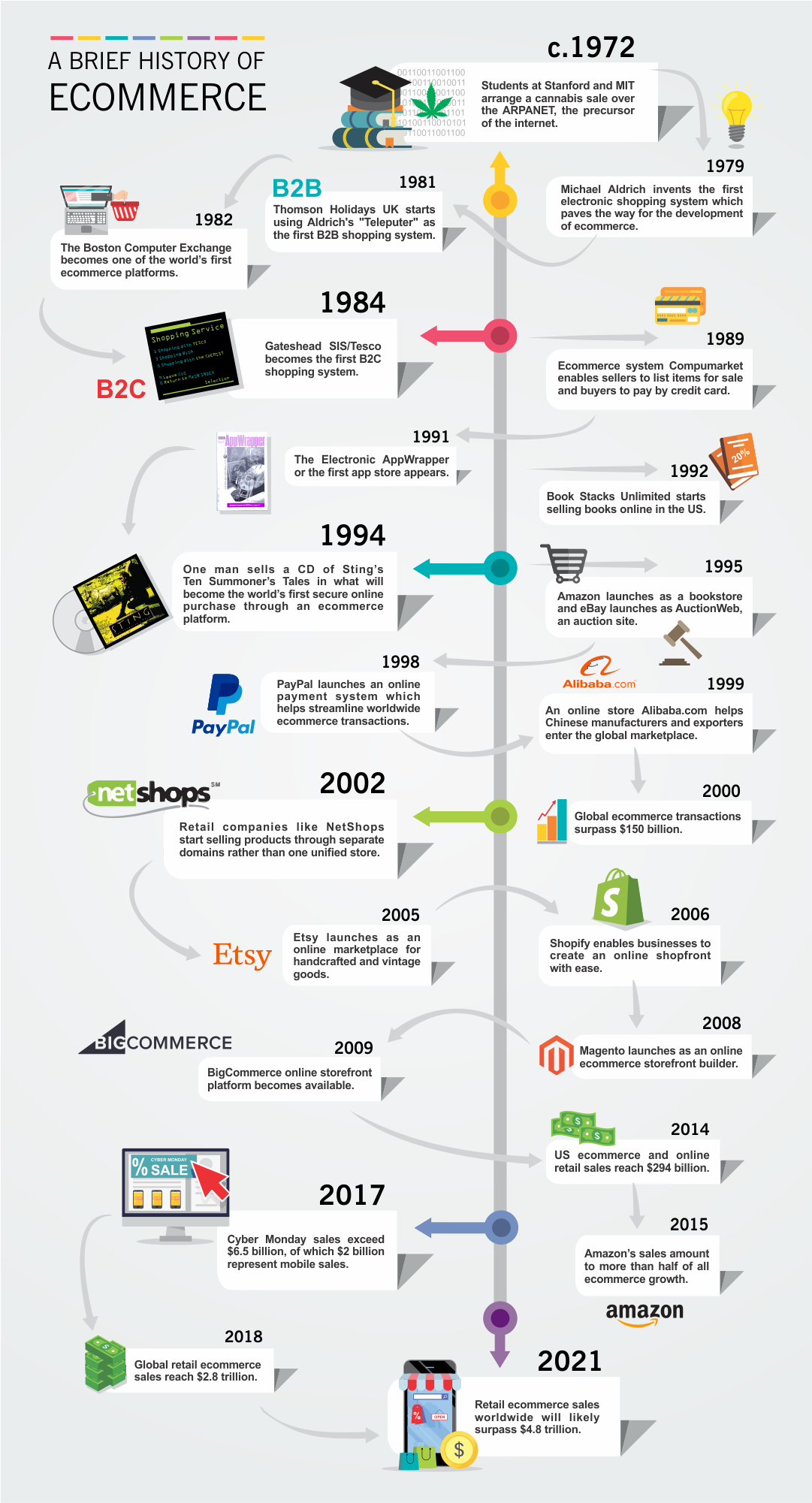 Ecommerce FAQ: 5 Key Ecommerce Questions Explained
What makes an ecommerce website different from the average website?
An ecommerce website consists of a product database, a product gallery, a shopping cart solution, and some form of payment processing. It may feature user profiles, review sections, and forums.
How many ecommerce sites are there?
There are millions of ecommerce stores in the world. Not all are profitable, though. Statisticians estimate that only around 110,000 ecommerce websites generate meaningful revenue.
How many ecommerce customers are there?
Statista's research estimates roughly 25% of all retail purchases will be made through ecommerce platforms by 2026.
What is mobile ecommerce?
People today shop more and more on their mobile devices. Mobile ecommerce requires responsive website designs, additional optimization, and targeted marketing. To streamline mobile ecommerce, many stores create their own Android and iOS mobile shopping apps.
Do you need to use an ecommerce platform to create an ecommerce website?
No. You can build an ecommerce website from scratch with or without a site builder. But an ecommerce platform makes creating, updating, and maintaining a website easier.
What Types of Ecommerce Websites Are There?
Ecommerce websites come in many forms. To better understand the different types of ecommerce websites out there, you have to look at the ecommerce models that have evolved over the years.
These models determine who an ecommerce store targets and how it operates. Find out more about each.
Ecommerce Website Models
Business to Consumer (B2C)
Ecommerce businesses that sell products or services to individuals follow the B2C model. The best-known example is Amazon.
Amazon offers a wide variety of goods across categories to consumers in the US and many other countries around the world. Other examples include IKEA and Walmart.
One difference between B2C and B2B e-commerce is that the former targets only consumers. Many B2C websites also allow users to set up business accounts.
Business to Business (B2B)
When a business sells products or services to another business, it follows the B2B model. An example is Alibaba.com, which among other things sells bulk items to smaller retailers in China and beyond.
Many ecommerce B2B retailers provide software, including software-as-a-service. These include Microsoft and Xero.
Consumer to Consumer (C2C)
With this model of ecommerce, consumers sell their goods to other consumers. Often, this entails the sale of old, used goods.
If you put your old laptop for sale on eBay, you're doing C2C ecommerce. Most auction sites in the world fall into this category.
Consumer to Business (C2B)
When consumers sell their products or services to businesses rather than other consumers, the ecommerce model at play is C2B.
A good example would be a professional photographer who uses a premium stock photography website such as iStock to sell usage rights for her images to marketing agencies.
Another example is a crowdfunding campaign. For example, an individual raises money to develop a product or service and offers that product to the pledger.
This happens with many Kickstarter campaigns.
Government to Business (G2B)
Companies today may pay for government goods or services online. Also included in this category are tax-related payments using online portals.
The idea here is to streamline payments and save processing times for both parties involved.
Business to Government (B2G)
Governments may use ecommerce to buy products or services from companies. For example, a town may use an online marketplace to outsource website development services.
This proves useful if the town wants to improve its official website or to develop a mobile app for tourists.
Today, the web offers an eclectic mix of ecommerce stores. Some stores focus on niches while others have become large marketplaces that bring together a wide range of products from different manufacturers and retailers.
While some ecommerce stores operate entirely online, many others sell their goods offline as well. Many have also integrated their brick-and-mortar stores and other locations into the ecommerce experience, by allowing customers to pick up ordered goods or drop off returns in specific locations.
Next, we'll have a look at some of the key types of ecommerce stores on the web.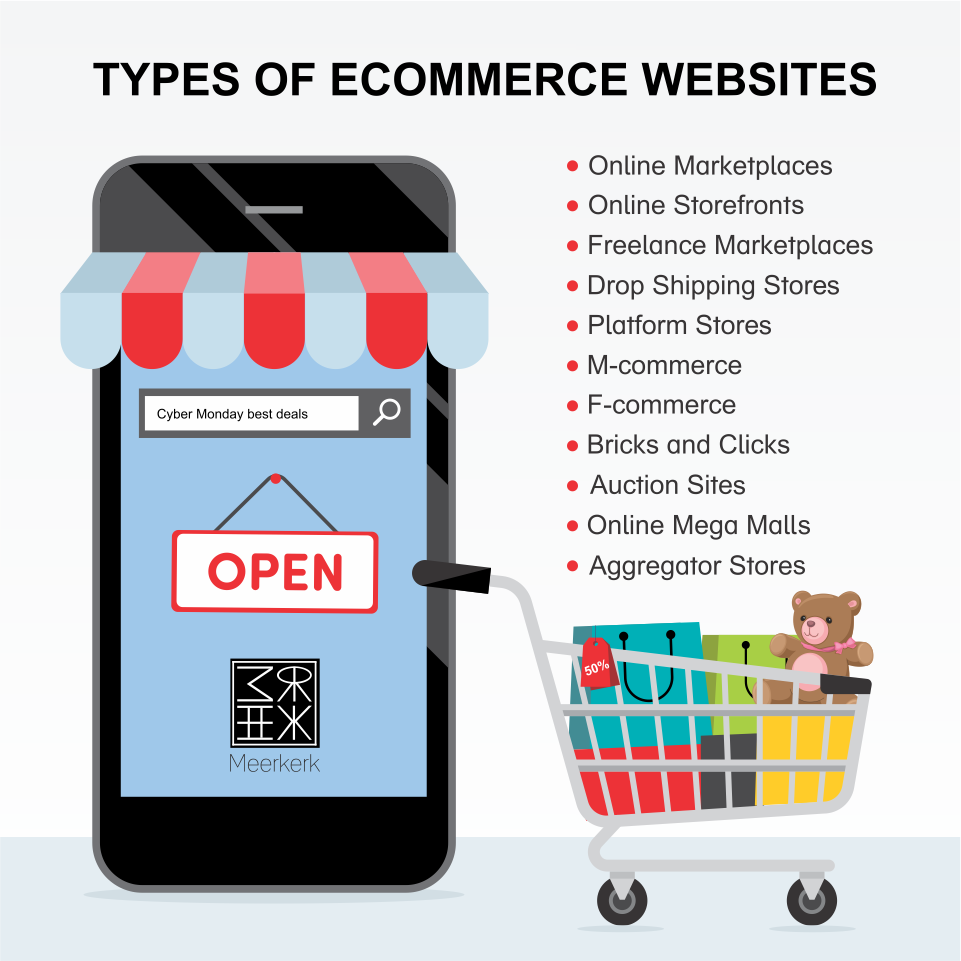 Ecommerce Website Types Explained
Ecommerce websites come in many flavors, but these all fall into a number of broad categories. As you have seen above, the business model of an ecommerce website reflects its target audience.
Now it's time to look at the different types of ecommerce websites based on how they operate.
Storefronts
Online storefronts enable merchants to display and sell products directly through a website. They are the digital equivalent of a self-serving physical store. They allow users to browse a catalog of products which may include thousands of items sorted according to different categories.
Most online shop fronts allow users to filter products according to price, features, and other characteristics, or to search for them using a search bar.
Online storefronts incorporate a shopping cart. This enables customers to add the products to the cart before proceeding to checkout. At checkout, customers only have to provide their payment information.
Online storefronts usually allow users to register an account. Accounts make it easier for users to manage addresses and phone numbers. More importantly, they save them time, by saving them the trouble of having to type repetitive information for each new order they place.
Online storefronts provide a secure shopping experience and usually integrate a third-party payment processing service. Retailers and brands use online storefronts to sell their goods directly to consumers and businesses. Examples of online storefronts include Walmart, Book Depository, and Zara.
Marketplaces
Online marketplaces provide a similar user experience to online storefronts. However, they bring together multiple manufacturers and retailers to offer a richer catalog of products. Amazon, eBay, and Alibaba are all very successful online marketplaces. They are some of the biggest ecommerce companies in the world.
Online marketplaces generally don't own inventory (Amazon is the biggest exception.) They only create favorable conditions for sellers and buyers to carry out transactions. The largest online marketplaces can bring together millions of sellers and feature a vast, ever-changing catalog of products.
However, most marketplaces require sellers to meet specific requirements before they can list their items. To sell on Amazon and most other established online marketplace, merchants must pass an application process.
Online marketplaces enable small merchants to display and sell their products before a much wider audience. This usually comes at the cost of a commission per sale.
Merchants with an online storefront must market that storefront and prove that it is secure and reliable. By joining an established online marketplace, merchants can borrow some of that marketplace's popularity and reputation.
Even merchants who already have a storefront or intend to create one may choose to sell their goods through an online marketplace.
Online marketplaces may cater to:
Consumers: Amazon, eBay
Wholesalers, manufacturers, and suppliers: Alibaba
Individuals or businesses looking for service providers:com, Upwork.com, Fiverr.com
Social Media Ecommerce
In recent years, social media has begun to integrate ecommerce features. For example, Pinterest Buyable Pins enable merchants to sell artworks displayed on their profile.
Even Instagram has implemented a shopping platform to allow users to shop collections of products from brands whose profiles they follow.
More generally, however, social media plays a supportive role in ecommerce, facilitating product discovery through company pages and influencer marketing.
Many brands include links in the social media posts that take customers who click on a product straight to the product's page.
Small Scale Ecommerce
Ecommerce also occurs on a smaller scale between individuals. Payment processing solutions such as PayPal enable individuals and small companies to add a PayPal payment button on almost any site.
Any customer who uses PayPal can use that button to pay for goods such as an eBook or digital course or service they can download straight from that website. More advanced takes on this model feature simple shopping carts, without having to create a full-blown online shop front.
How Does an Ecommerce Website Work?
So far, we've looked at the different types of ecommerce websites and the models they are based on.
But what's the actual journey of an ecommerce product from the store owner's warehouse to the customer?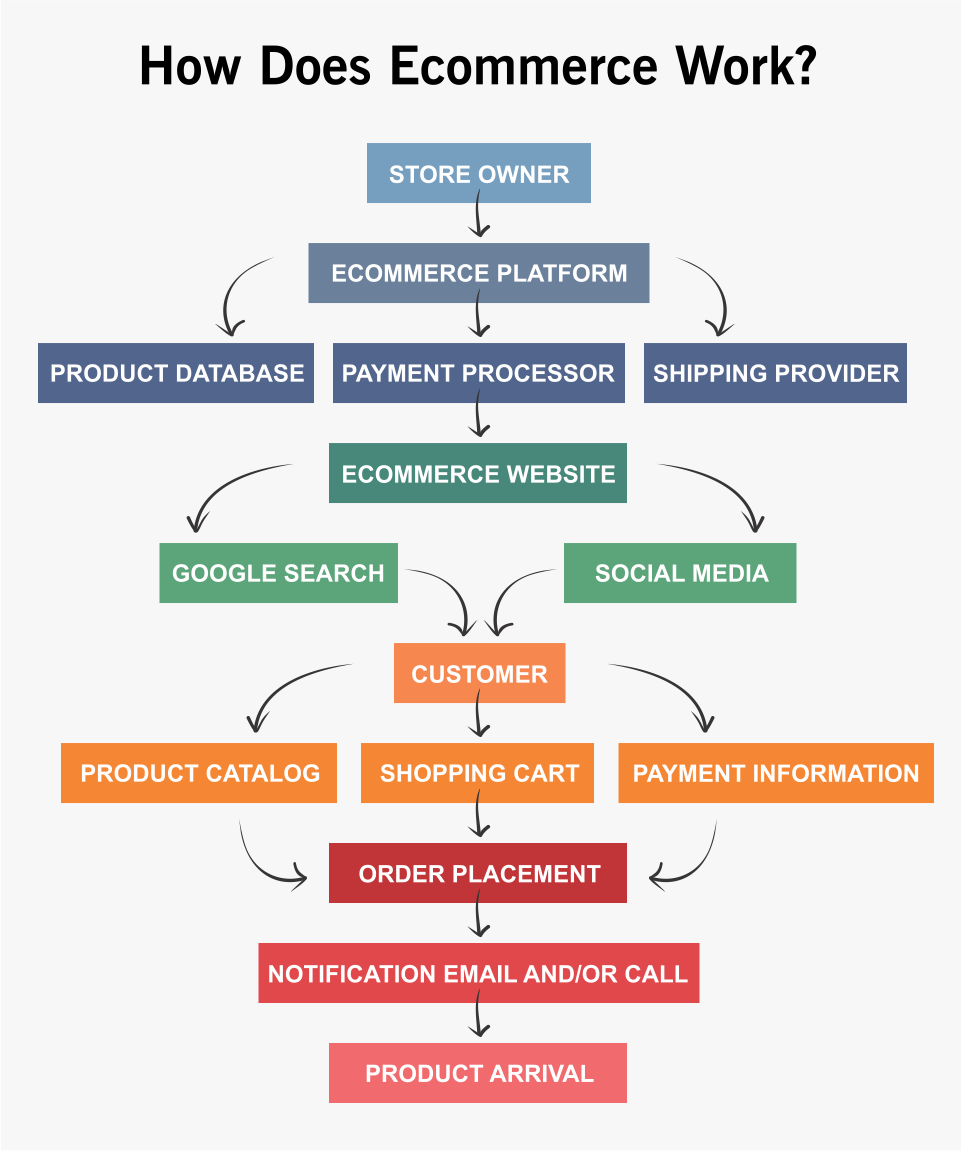 While ecommerce websites come in many variants, they all use the same model. Store owners adapt this model to their needs.
They look for the most straightforward way possible to get the product from their warehouse to the customer. And ecommerce websites generally do a great job at this.
Ecommerce websites offer many advantages over traditional stores. But then there are also some cons which successful store owners understand and, by doing so, navigate carefully.
Ecommerce Pros and Cons: What's in It for You?
Ecommerce has pros and cons for sellers as well as customers. Let's take a look at the most important advantages and disadvantages of ecommerce.
Pros of Ecommerce
For sellers:
Lower costs
Greater reach
Open 24/7
The opportunity to sell regionally, nationally, and internationally
Personalized experience
Reduces the need for staff
Automates repetitive processes
Available on mobile
Generates customer data for marketing
Encourages impulse purchases
Facilitates retargeting
For buyers:
Larger catalog of products
Easy product searches
Faster product comparisons
Convenient, as customers can order from home
Saves time
Available on mobile
Ships to your doorway
Makes product research easier
Makes finding the best price easier
Cons of Ecommerce
For sellers:
Technical issues can render a site useless
Limited interaction with customers
Vulnerable to poor, impulsive reviews
Constant optimizations required
A large product catalog requires careful management
Every product needs an image and description
Shipping requires good logistics
Ecommerce is very competitive
For buyers:
You can't usually try a product before you buy it online
Potential shipping costs depend on your location
Having to fill in personal information to complete an order
Credit or debit card information required
Product unavailability
Shipping takes a matter of days
Returns often mean you have to drop off the package
Discover the Best Ecommerce Platforms
The growth of ecommerce has given rise to the development of ecommerce platforms that enable merchants to create an engaging storefront faster. Ecommerce platforms include website builders, content management platforms, and backend store management solutions.
After the emergence of cloud computing, most ecommerce platforms have become available as Software-as-a-service. They offer a complete solution for merchants to set up an online store and start selling their goods.
Going a step further, leading platforms like Shopify and BigCommerce integrate accounting software, inventory management, and marketing solutions.
The way most ecommerce platforms work today, you don't have to worry about the technical side of your ecommerce store at all.
You register an account, choose a payment plan, and then you gain access to a dashboard that lets you customize your site and add new functionality to it through free and paid extensions and add-ons.
You may also have to download a mobile app, but that's about it.
So, what are the top ecommerce platforms around?
BigCommerce
BigCommerce started mainly as an ecommerce site builder. Over the years, however, it has acquired many new features. Today, it provides a complete ecommerce shopping solution with integrated hosting.
With BigCommerce, you can customize all the elements of your online shop front. You can do this through a fairly straightforward process. A notable feature of BigCommerce is that it enables merchants to sell on Amazon, eBay, and other online marketplaces.
Over 140,000 ecommerce websites use BigCommerce. This includes some of the internet's top 10,000 sites.
Magento Commerce
Magento launched as an open-source platform in 2008. Highly customizable and easy to use, Magento offers users rich functionality and almost full control over every aspect of their store. Magento is also very secure and well-optimized.
Now powered by Adobe as Adobe Commerce, Magento scales to create everything from small websites to large online marketplaces. Paid extensions enable you to extend the functionality of your Magento site. Behind Magento is a large community of experts whose valuable assistance on forums can prove useful.
According to Adobe, over 250,000 merchants use the platform to generate over $100 billion in gross merchandise sales.
Shopify
Shopify targets small and medium-sized businesses. It's a fully hosted ecommerce platform that provides a hands-free approach to ecommerce. It strikes a fine balance between customization and convenience, allowing users to craft compelling online shopping experiences.
Shopify goes beyond providing an ecommerce platform. It includes payment processing, inventory management, and social media integration to facilitate sales.
Today, Shopify has become a kind of backend shop management software available on mobile.
Shopify boasts over $135 billion in product purchases made through their platform.
WooCommerce
WooCommerce can transform a WordPress-hosted website into an engaging ecommerce store. WooCommerce is available as a WordPress plugin. It is easy to customize and features a wide variety of themes.
Similar to WordPress, WooCommerce is very easy to use. You can customize it even if you don't have any previous experience creating or managing an ecommerce website. WooCommerce features a variety of free and paid extensions which can further expand its functionality.
Over 6 million websites use WooCommerce, testifying to this platform's appeal. For many merchants around the world, it is one of the quickest ways to create a simple online storefront.
Volusion
Another complete ecommerce solution, Volusion brings in one package all the features you would expect from a professionally designed ecommerce website. Volusion's website builder is user-friendly and adapts to the needs of businesses across industries.
Volusion's shopping cart software and marketing tools are some of the best developed, making it a popular choice for many ecommerce businesses.
Over 60,000 merchants have used Volusion so far, making it one of the most popular ecommerce platforms in recent years.
Inspiring Ecommerce Success Stories
The world of ecommerce has seen some remarkable success stories over the years. The most striking are perhaps those of large online marketplaces. Starting as humble bookshops, small auction sites, or bulk retailers, these have become some of the most profitable companies in the history of the internet.
But why have they been so successful?
Amazon: The Ecommerce Ideal
Amazon epitomizes ecommerce success. It started out as a small online bookstore and became a thriving online marketplace with millions of merchants and customers in the US and beyond, and it has grown its revenue by double digits in every year of its existence.
Why is Amazon such a success?
It's customer-centric
Offers a vast catalog of products
Provides a great shopping experience
eBay: Ecommerce for Everyone
eBay is another great example of a very successful ecommerce platform. The auction site has grown into the 10th largest company on the internet.
Why is eBay such a success?
It has simplified and streamlined consumer to consumer sales
It's easy to use
The auctioning system puts customers first
Alibaba.com: Ecommerce as a Cost-Saver
Chinese-ecommerce platform Alibaba enjoyed a 2018 revenue of nearly $40 billion. It's currently the largest online B2B marketplace.
Why is Alibaba.com such a success?
It's open to manufacturers, importers, exporters, and suppliers
Offers some of the lowest prices around
Simplifies and optimizes bulk purchases
Ecommerce Failures You Can't Ignore
For every ecommerce success story, there is at least one resounding flop. Merely creating an ecommerce website is not enough to please customers. Discover three businesses that have learned this the hard way.
eToys: Fast Is Not Always Good
Once upon a time a fast-growing toy retailer, eToys crashed soon after the dot-com bubble. This happened despite the site outselling many of its competitors. If sales weren't the problem behind eToys' inability to raise capital, what was?
Why did eToys fail?
It tried to grow too fast, taking shortcuts that affected the customer experience
Tried to process more orders than it could handle
Couldn't ship orders on time
Webvan: You Can't Force Expansion
Webvan started as an up-and-coming grocery delivery company worth $1.2 billion and having thousands of employees in the US. However, its fulminant growth ended only two years after its launch.
Why did it fail?
It made massive, uninspired purchases in order to grow
Mistakenly assumed that bigger means better
Placed expansion above customer satisfaction
Boo: The Customer Experience Matters
Boo ended up scaring all its customers away, though when it first appeared in 1998, it attracted some attention. The ecommerce fashion website featured an exciting catalog of products and had over 300,000 customers. But that wasn't enough.
Why did it fail?
A slow website contributed to a poor shopping experience
It didn't optimize its design for its target audience
Was much too expensive to maintain
What can you learn from these ecommerce success stories and failures? Having a good business idea is not enough. What truly matters is the customer experience.
Amazon, eBay, or Alibaba all started with simple, even humble business ideas, but they made their customers their priority. That's why they continue to be so successful.
What is ecommerce success if not a relentless drive to make customers happy?
How Ecommerce Has Changed Customer Behavior
The growth of ecommerce has altered customer behavior. Customers today are more informed than ever.
They value positive reviews, which they often trust as much as recommendations from friends. Useful product information plays an important role in the customer's journey.
Just consider the extensive product information Amazon displays and integrates with the customer reviews. And this doesn't even include the "From the manufacturer" section.
At the same time, customers expect prompt customer assistance – the closer this gets to real-time assistance, the better.
Ecommerce has also made customers more impulsive buyers. It has drawn attention to the power of discounts and special offers.
Ecommerce has also raised the bar in terms of the website performance customers expect. Online shoppers today have very little patience with websites that are slow or crash. Technical excellence has become a fundamental prerequisite for a successful ecommerce website.
Another significant effect of ecommerce on customer behavior is redefining the concept of returns. Online shoppers today expect easy returns and money-back guarantees. That's because they can't try or see in person the products before buying them.
Ecommerce stores that don't make returns easy get bad reviews. It's as simple as that.
Overall, ecommerce has increased not only consumer convenience but also consumer expectations. Despite the limited personal interaction between an ecommerce website and its customers, consumers expect a great shopping experience all around.
How Machine Learning Will Shape Ecommerce
Many exciting technologies are transforming the internet today, including voice search and AI. But there is one that is likely to have a transformative effect on ecommerce in the near future. In fact, it's already helping large ecommerce stores sell more.
It's called machine learning.
What is machine learning and why should you know about it?
Machine learning in the context of ecommerce enables a computer program to learn as it performs a task. It allows it to process large amounts of data, classify it, and use it to become progressively better at its task.
Machine learning is a branch of AI. It's not the equivalent of human cognition. But then it doesn't have to be to revolutionize ecommerce.
Find out what machine learning can do for ecommerce.
Improve Search Results
Machine learning can help big ecommerce stores improve search results – something that can both improve the user experience and increase sales.
This is especially important for ecommerce stores that sell many similar products in the same category. And even more so when the differences between products are subtle, which is the case for many soccer balls and phone cases.
How does machine learning do it? It combines keywords with a wealth of other important data, such as customer ratings, click rates, margins, and inventory. An ecommerce store that harnesses the power of AI understands customer intent better.
Improve Retargeting
But more than improving product search, machine learning can help ecommerce stores offer better product recommendations based on the customer's former preferences.
This can also make ad-retargeting in the form of previously viewed products more effective. The result could be an even faster shopping experience and more impulse purchases.
After all, if a store's recommendations are always spot on, you'll want to come back for more.
Optimizing Ecommerce Prices
Price optimization is another area where machine learning can have a big impact. Serving customers the right price at the right time can drive sales.
Machine learning can combine and interpret competitor prices, pricing trends, product demand, and customer buying behavior to optimize prices.
It can do this by processing huge chunks of data very quickly. So quickly that customers don't even realize it.
Reducing Ecommerce Fraud
Machine learning can also help ecommerce store owners to fight fraud. They can do this by detecting suspicious patterns such as customers that keep returning goods or that use stolen credit cards repeatedly.
On another level, it can screen out comment and review section trolls and spammers to keep these sections clean.
Wouldn't that be great?
Final Words
Ecommerce has opened a new world of opportunities for merchants and consumers. It has made it easier than ever before for small and medium-sized businesses to sell their products to a global audience.
At the same time, it has brought consumers an amazing catalog of products across categories. You can find online anything today, plus a lot of things you never thought existed.
What would the internet be without ecommerce?
It's hard to imagine. For many of us, ecommerce stores have become lifestyle choices. They make shopping easier. They save time. Often, they save money too.
In the end, ecommerce makes life more comfortable. It makes life better.
Now that you know all about ecommerce, it's over to you.
What is ecommerce to you? A better way to sell? A faster way to buy? And how do you think the ecommerce landscape will change this year?
We'd love to hear from you. Drop a comment and let's start a discussion now!