"Hey Google, can you optimize my content for voice search?" Nope. Not yet at least. Voice search helps people discover your website and reach you more quickly, but the optimization is up to you.
At least 50% of all searches are projected to be voice searches, according to Oberlo. That includes Google voice search, YouTube voice search, voice search app download, and more. That's how big voice search has become.
Even as we speak, mobile users could be searching for your website using voice search. The question is, can they find it?
Becoming Voice Search Ready
If your website is optimized for voice search, you have nothing to fear. You may see more traffic, more engagement, and possibly more customers stepping into your store (or buying your service). You'll notice more organic interactions from customers with your website too – and that's a very good thing.
And here's the best part. Optimizing for voice search is not hard or expensive. Voice search marketing itself can be one of the most affordable yet effective forms of marketing, providing of course that you do it right.
Outsourcing part of your content to a content writing company can help. That's because a key aspect of optimizing for voice search is publishing great content that answers user questions. But there's a lot else you can do right now to make your content voice search friendly.
That's why we came up with this guide. Voice search is changing how people search for information online and interact with it, but not every business is prepared for it.
If you're not sure where to start, we want to give you a gentle push in the right direction. Learn more about the latest voice search trends and discover the best ways to optimize for voice search.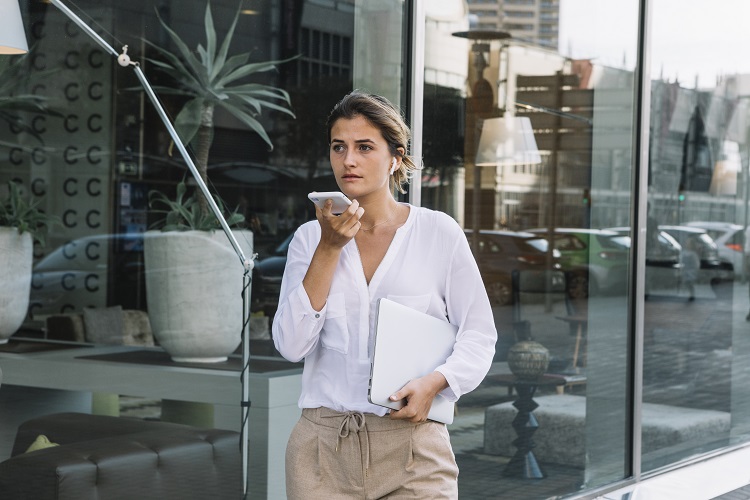 Voice Search Trends – Usage, Privacy, and More
Voice search is on the rise. Mobile devices, voice assistance, and voice-activated devices for the home like Amazon Echo and Google Home make voice search increasingly accessible. But what are the key voice search trends you need to pay attention to this year?
Mobile Drives Voice Search Growth
32% of U.S. consumers own a smart speaker. And 71% of those use their devices regularly for shopping. And 40 to 60% of mobile users upgrade their phones every few years. What does that mean?
Mobile voice adoption is the single most important driving factor behind voice search. Mobile users are the largest voice search user group and one that your voice search optimization strategy cannot ignore. If you want to optimize for voice, you have to optimize for mobile.
Voice Search Appeals Primarily to Young Users
According to a Global Web Index report, 2 in 3 mobile voice search users are 16 to 34 years old. This information is worth remembering, as young audiences are characterized by their short attention spans and general lack of time. In other words, your content needs to hit the mark from the first. No excuses.
Top Income Users Are More Likely to Use Voice Search
The largest category of voice search users falls within the top 25% by income, according to the same study. The differences in usage between different income categories are not significant, but they suggest the potential of voice search as a conversion tool. For online retailers, marketplaces, and service providers, voice search optimization could be even more important than for other businesses.
The report has also identified some critical online purchase drivers for voice tech users. These include free delivery, coupons and discounts, easy returns, reviews from other customers, and next-day delivery.
Voice Search Privacy Concerns Are on the Rise
While many internet users around the world have embraced voice search, there are some who are still not sure how voice search stores their personal data. Does voice search record their voice? Does it track their activity online as web browsers do? And are voice search engines and tools using this data for marketing purposes?
Search engines like Google collect voice search data and may use it to serve you more targeted ads. While Google lets users delete this data, privacy concerns related to voice search remain. 65% of voice search users are concerned about how companies use their personal data.
Voice Search Is Eliminating Screens
As applications are becoming better at understanding voice commands, screens are becoming redundant. Hands-free tools like Apple Siri and Amazon Alexa can help users find out what they want without having to check a screen. No surprise then that Gartner estimates 30% of all searches are screenless.
Narrated content, virtual reality website browsing, or AI-assisted booking and ordering may not be here yet, but optimizing for voice search is for most businesses the first step to ensuring advances in voice search technology won't massively affect their visibility online.
How Does Voice Search Work?
Voice search usually relies on a form of speech recognition to transcribe what you say into text. This often involves natural language processing which may be powered by AI. AI can understand grammar as well as recognize patterns in your speech.
Voice search then analyzes the transcribed text and deduces its meaning. Different language processing technologies may then be used to link your search to websites or apps.
Responses may then be converted back into natural language, eliminating the need for a screen.
Google uses natural language processing and the Hummingbird algorithm for voice search. When you use the voice search, Google filters your sounds, digitizes them, performs a voice analysis, looks for patterns, and displays relevant results. It sounds like a lot of work, but it all happens in just a few seconds.
Google Hummingbird uses semantics to get to the bottom of the meaning behind a query. It understands searcher intent. It knows that "where can I X in Y" essentially means the same thing as "best X in Y."
Now, let's get down to the basics and find out how to optimize for voice search.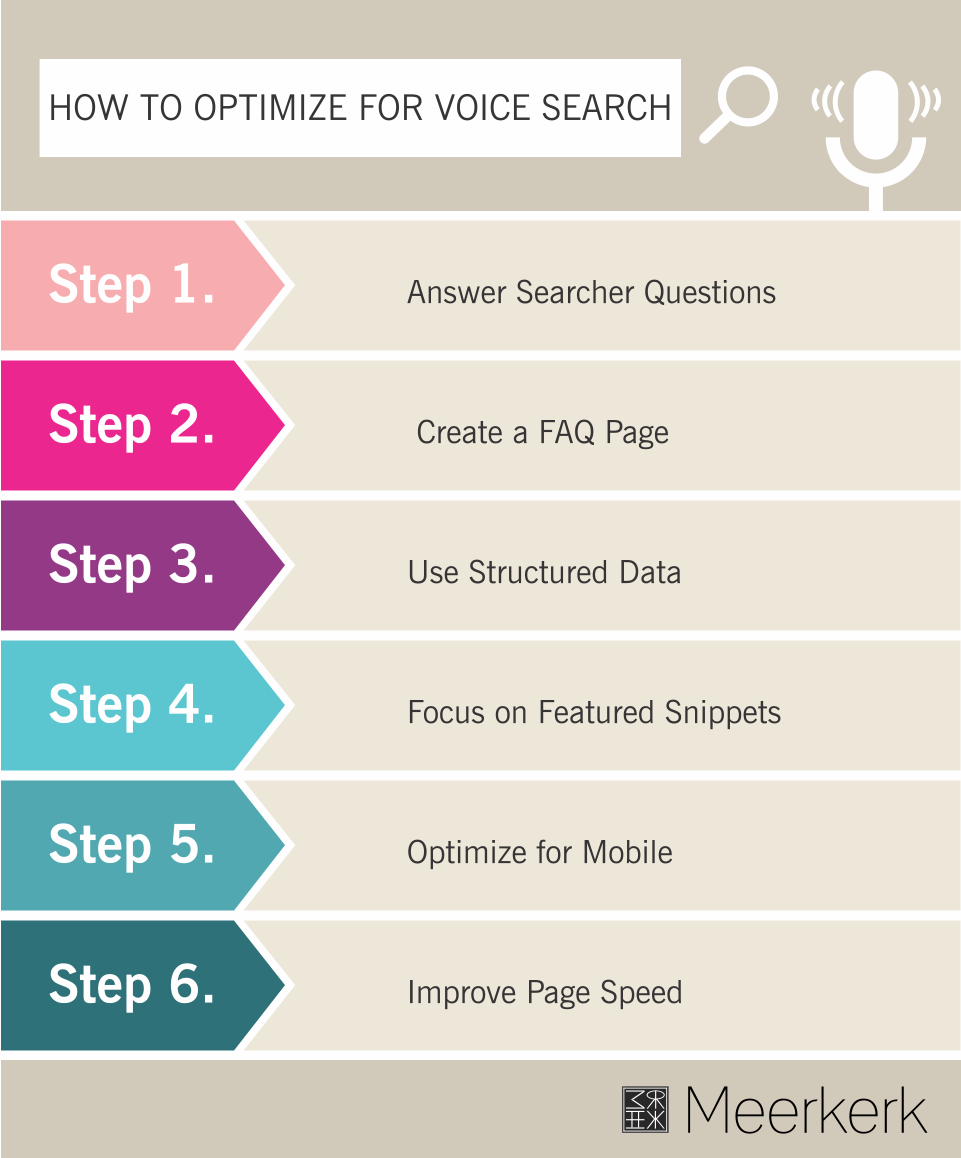 Voice Search Optimization Guide
Step 1 – Answer Searcher Questions
Search engines are very good at providing quick answers to questions. That's why many people use voice search – to find out something fast.
But user intent may of course differ. Consider these two questions:
Q1: "Hey Google, how do you make ramen?"
Q2: "Hey Google, where is the nearest Japanese restaurant?"
The user intent for the first question is clear – the user wants a recipe for making ramen. Maybe they are not actually interested in making the Japanese dish. Maybe they only want to know how to make ramen. Either way, a recipe for ramen with instructions and ingredients will be an accurate result.
For the second question, it's reasonable to assume there's customer intent even if it doesn't contain words like "book a table" or "the best restaurant." With many voice searches, customer intent is implied, rather than expressed.
Customers think from their perspective, as it is only natural. They want an experience, in this case, to eat in a Japanese restaurant.
Optimizing for voice search becomes easier when you take customer intent into account. This means that you have to think more from your customers' perspective. Don't be surprised if voice searchers looking to buy a product or service don't use words like "buy," "cheap," "best," or "price" in their search.
How to do it:
Make a list of the questions your customers are most likely to ask voice search assistants and incorporate these into your content.
Add call-to-action buttons to pages that answer these questions.
Answer questions that don't have customer intent without pushing for a sale.
Step 2 – Create a FAQ Page
Voice search encourages people to ask questions. When you use voice search, it's usually more natural to ask a question than to think in terms of keywords. And this is something you can use to your advantage.
Voice search queries often begin with what, when, how, is or an action verb. Here are a few comparisons between traditional text search and voice search that illustrate this.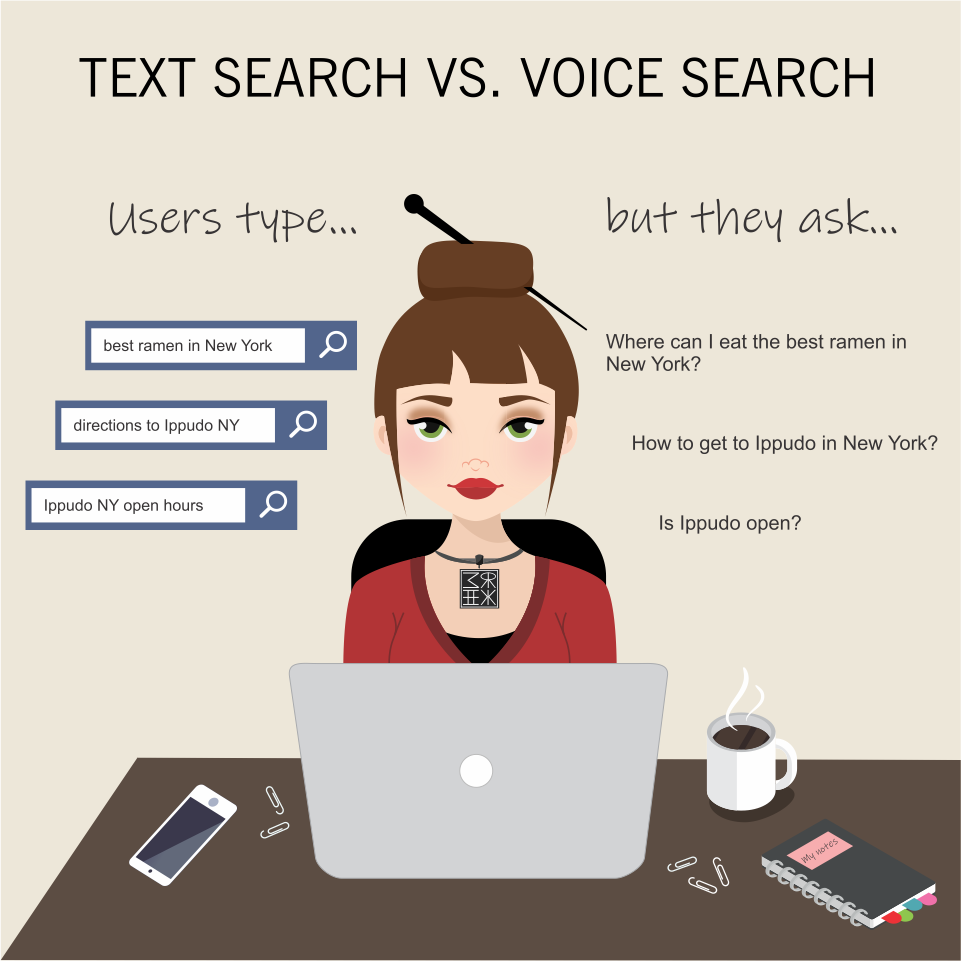 Here's the search volume for a typed query:

But if you look at search volumes for "Where can I eat the best ramen in New York?" you won't find much. That's because the question is a bit too long (even for a long-tail keyword) and most keyword tracking tools won't pay attention to it. But that doesn't mean it's not important.
So the differences between typed and spoken queries can be quite significant. Optimizing only for keywords like "Ippudo NY open hours" could mean missing out on voice search traffic.
One way to integrate questions naturally into your website is to create a frequently asked questions (FAQ) page. If you have one already, you can expand it, adding new keywords to it. However, it's important that these questions are relevant to the key questions users ask.
On another level, you can also integrate frequently asked questions into your longer blog posts. This increases the chances that Google will serve your posts to voice search users.
How to do it:
Start from your main keywords and turn them into questions. Expand your list of questions by drawing on related keywords.
Make your existing FAQ section longer and optimize it for search engines. Add sub-questions to the main questions.
Include customer support and sales-related questions in your FAQ.
Make the FAQ accessible from the home page.
Step 3 – Use Structured Data
Talking of ramen, if you search for a recipe online, you may notice that some of the results provide more information than others. For a recipe, this may include cooking time, total calories, and links to related articles or sections within a larger article. This is structured data in action.

Structured data helps search engines understand your content better. It helps them create relevant snippets of information which enable voice searchers to navigate your site better.
If you want to make a great first impression on voice searchers, structured data can be valuable. It can also provide complete information at a glance, which differentiates your pages in the search results from the other.
Structured data requires Schema markup, which is a form of microdata that you can write into your content. You have to add it to the actual code of the page, but content management platforms like WordPress offer plugins that simplify the process.
If you haven't used Schema markup to structure data within your posts, now it's a good time to get started with it.
How to do it:
Step 4 – Focus on Featured Snippets
Google uses featured snippets to extract useful information from a web page and display it above the search results. It's Google's way of serving searchers fast and easy results.
For example, if someone asks Google "how can I make the best ramen at home?", the results include a snippet with tips on how to improve ramen. This snippet is taken from one of the websites from the first page of the results. It provides useful information at a glance.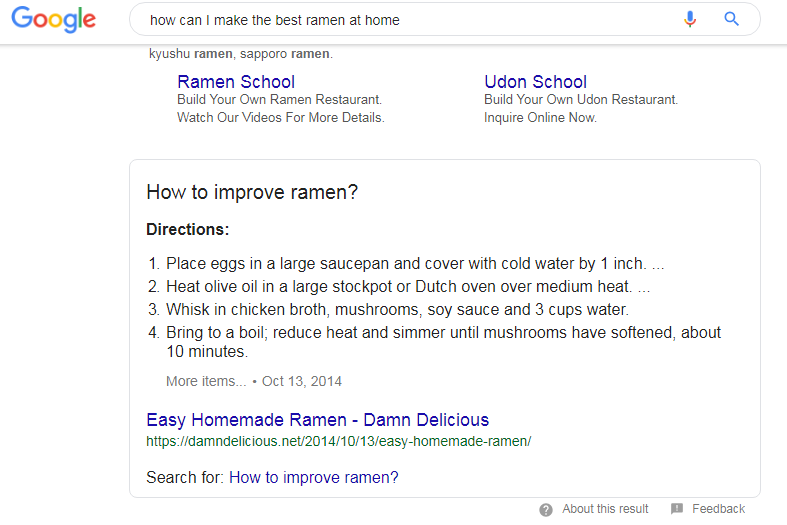 Of course, this info is shortened, so visitors are tempted to click on the link in the snippet. The site was not the first in the search results for the query, but that essentially places it above the others. What does this mean? Rich snippets can help you rank better.
So far so good, but how exactly can you make Google extract snippets from your content? Well, you can't. But there are a couple of things you can do to encourage Google to do this. And it all boils down to providing useful, search-engine-optimized content with proper formatting and the right metadata. All this helps Google understand your content better, which increases the likelihood that it will extract snippets from it.
How to do it:
Add search engine friendly keywords to your subheadings – Google tends to turn informational subheadings into snippets. Include the most popular keywords related to your main keyword.
Focus on keywords with a high search volume that are relevant to your main keywords.
Work on improving your SEO ranking – featured snippets usually come from the first sites in the search results.
Step 5 – Optimize for Mobile
Voice search happens mostly on mobile. That's important to remember. Quite simply, it means that if your content is not optimized for mobile, it's not optimized for voice search either.
Even if your content answers the right questions, if it doesn't display correctly, your conversion rates, time on site, and user engagement will drop.
You're probably already using a responsive theme with a mobile-friendly design. If you're not sure if your web pages are mobile-friendly, use this simple tool to check.
But mobile optimization doesn't stop there.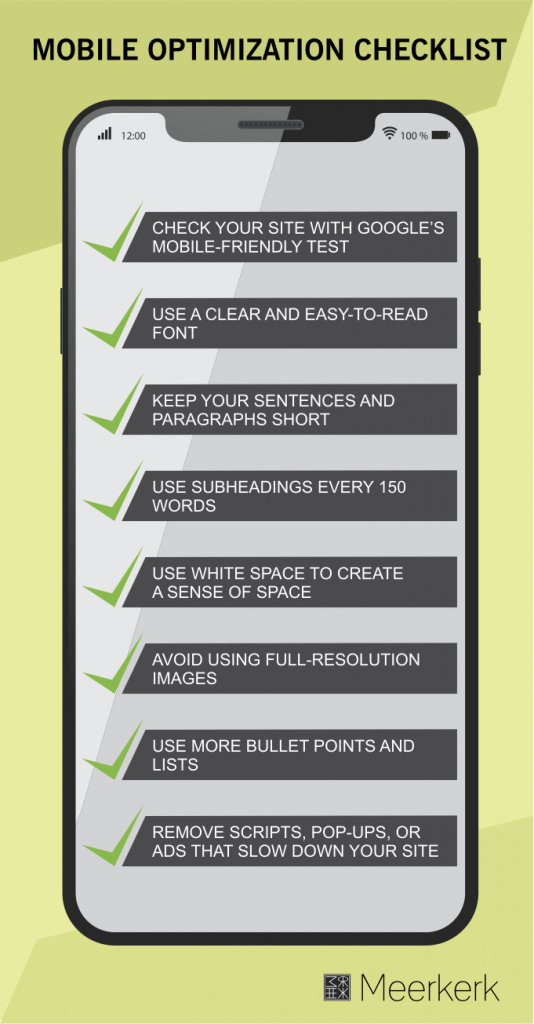 Step 6 – Improve Page Speed
People who use voice search are often in a hurry. They are driving, walking, running, cooking, or multitasking. They want an easy answer fast. That's why they are using voice search in the first place – so they don't waste time typing their query.
According to Google, most sites lose half their visitors while loading. That's how important page speed is.
Voice searchers don't have much patience for slow-loading pages, and why should they? Your page needs to load fast before visitors have time to jump to another page.
How to do it:
Check your website page speed and follow Google's suggestions for improving it.
Disable plugins you don't need.
Upgrade your theme – choose a premium theme.
Get better web hosting.
Optimize images and other visual content for mobile users.
Voice Search and the Value of Quality Content
The rise of voice search draws attention once more to the importance of publishing quality, relevant content on your website. The top voice search results are the ones that provide value to searchers. Titles, subheadings, text, meta descriptions, and microdata – all these play a part in making your content relevant.
Crafting all of these with care can be a challenging and time-consuming task. That's why many individuals and businesses who want to take advantage of voice search to improve their search engine rankings turn to outsourcing.
Outsourcing your content to a content writing company is an effective way to create voice search-friendly content for your website and other online channels. At the same time, it also enables you to revisit and refresh existing content, rewriting and optimizing it with voice searchers in mind.
An article writing service is often a good start, but a video creation service can also help. Many search results today retrieve video content. For many voice search users, video content is more appealing than text because they can play it back in the background.
Making content your priority is then one of the best ways to tap into the power of voice search to generate more traffic and engagement and improve the user experience for your online customers.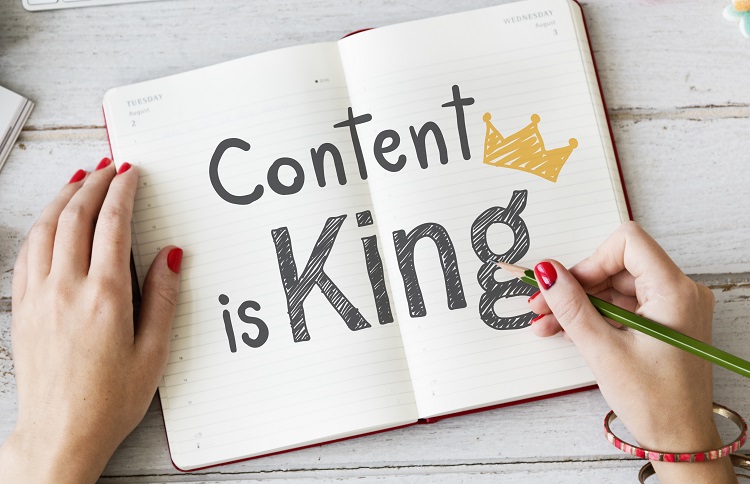 The Wrap Up
There are many ways to do voice search optimization effectively this year. But they all boil down to understanding user intent and crafting useful, structured content that provides valuable information and that search engines can understand. Voice search optimization is not a compendium of SEO tricks and strategies, but an organic process of creating content for your target audience.
More than a hot trend, voice search is changing online search and will likely have a lasting impact on both the internet and voice activated technologies, including mobile devices. And, of course, it will help many people around the world do things online faster, without a screen.
Not optimizing for voice search could mean falling behind your competitors. If you have a website, whether you use it for business or not, optimizing for voice search is crucial to reaching and maintaining a good position in the search results.