What makes effective content that engages and converts?
Depending on who you ask, you'll get lots of different answers. But there's one group of people whose opinion far outweighs anyone else's – your audience.
Now, your audience expects a lot from your content. With so much information reaching their screens, they get to pick and choose what to interact with. That's why pushing out informative content isn't enough to get people to stick around.
Adding entertainment to the mix used to be enough to catch and hold someone's attention. But as content marketing evolved, we saw the need for another ingredient – relatability.
According to the Havas Group's research, 77% of people buy from brands that share their values. About 66% are looking for brands that provide meaningful experiences. This proves that customers are looking for more than an enjoyable read in your content. They want to feel a strong connection with a brand.
Relatable content is a fantastic way to establish such a connection. Let's see how you can write with relatability and give your brand a personality that will resonate with your audience.

1. Know What You Stand For
What are your brand's core values? How does your marketing reflect those values?
If you can't answer these questions off the top of your head, it's time to stop and think. The first step to writing relatable content is knowing what it is that people should relate to.
Values can represent something that has a massive impact on your environment. For instance, Apple wants to make a positive impact on society through carbon footprint reduction, inclusive work culture, and similar initiatives. The company uses its content to spread the word and show users how much they care. As a result, customers feel like they're a part of something big.
Your core values can also be something more personal and tied to your specific offer. The Dollar Shave Club is an excellent example of this. They know that customers care about convenience, flexibility, and grooming. Accordingly, these became the core of both their offer and their content.

Source: Dollar Shave Club
The Dollar Shave Club didn't stop at nailing down their values. They proceeded to showcase those values effectively. This brings us to the next crucial step.
2. Match Your Brand's Voice With the Audience's
With your values clearly defined, it's time to figure out how you'll communicate them. In other words, you need to define a brand voice that projects your values and resonates with your audience.
dbrand does an outstanding job at this. The phone case and skin manufacturer knows who its audience is and talks to them in a way that engages and entertains. The brand's voice is edgy, controversial, and often hilarious, which keeps people glued to their content.
Here's one of dbrand's tweets as an example: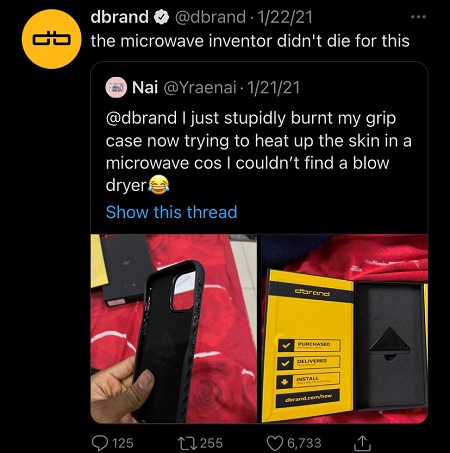 If you google dbrand, you'll see the following ad copy:
Make scratches and fingerprints things of the past. In the future, there's only dbrand. Free, tracked, global shipping on all orders over $25. We're literally everywhere. Thank us with your money. Join the cult. Click the link.
dbrand is a perfect example of a brand that knows how to leverage self-awareness in creating relatable content. Of course, this doesn't mean that the same kind of edginess and controversy will work with your own audience. The point is to learn your audience's language and ensure that your content speaks it.
3. Cover the Topics That Matter to Your Audience
The online world is noisy. Ineffective content marketing adds to the noise without providing much value. If you want your content to reach the right ears, you must push out the sort of content that your audience truly cares about.
If you need relatable content ideas, start by listing questions that your audience wants to get answered. Then, see how you can turn those questions into articles, social posts, email sequences, and so on.
Figuring out what your audience wants to learn about can take time and effort. It involves a great deal of market research and analysis.
If you don't know where to start, take a look at the performance of your previous content. What has your audience interacted with the most? Can you dive deeper into those topics or create content that stems from it?
Even if you don't have any historical data to refer to, fear not, as there are plenty of ways to find your audience's burning questions. Google some general terms related to your business and see what comes up. Visit blogs, forums, Facebook groups, and similar communities where people talk about their interests or issues.
As you go about covering the topics that your audience wants to learn about, make sure to weave your brand's voice into them. Relevant content paired with the right voice is the recipe for success.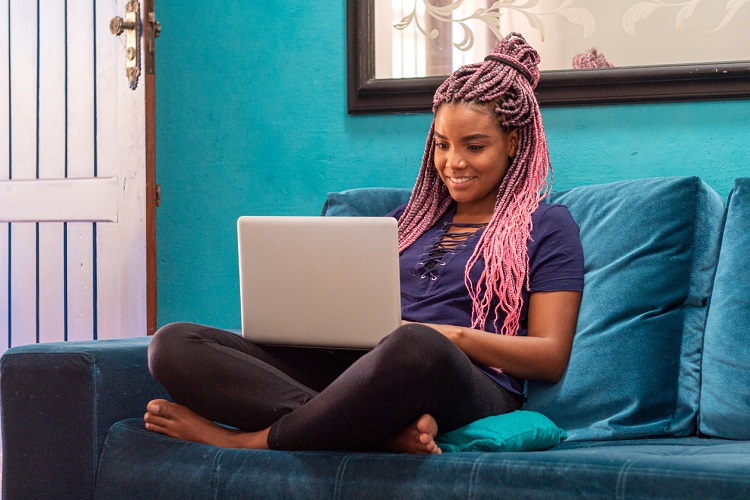 4. Listen More Than You Speak
You can't humanize your brand and write relatable content by focusing solely on cold data. While they're surely valuable, figures and analytics don't tell the whole story. To be able to relate, you must establish a more direct connection with your audience.
In other words, you should get some conversation going through your content. You can do this by inviting people to comment on your posts, creating polls, and many other ways. The goal here is to let your audience tell you how well they're receiving your content without explicitly asking.
If you know how to write relatable content, you should see massive spikes in engagement. Your audience will look forward to your content and interact with it. Not only will this make your marketing more effective, but you'll also have a goldmine of new content ideas.
Connections Above Everything
One of the main goals of content marketing is connecting with your audience in a way that fosters a sense of community. For this to happen, you must approach the audience not as a business but as a helpful friend. Relatable content creates a difference between the two.
When you're relatable, you show your audience that you're not just a drop in the sea of competitors vying for their attention. You'll place yourself among them rather than above them. If you keep nurturing it, this kind of connection will do wonders for your market position.