When is the last time you quit a website only seconds after you've reached it? Or scrolled from one post to another in your Facebook content stream without feeling the curiosity to open any of them? Or jumped from video to video on YouTube without watching a single one to the end?
The trouble with boring content is that it's the unavoidable byproduct of routine content marketing. It can appear even if your SEO content marketing strategy as a whole is good. And even if you invest time and effort into creating good content. Boring content is the average mean in content marketing, and you need an above average approach to creating content to avoid boring your audience to death.
In this short guide, you'll learn how to tell whether your content is monotonous or not and discover how to create engaging content that will refresh your online image and consolidate your brand identity. We'll include plenty of inspiring examples from brands of all sizes that are nailing content marketing. But first, let's start by assessing the current state of your content.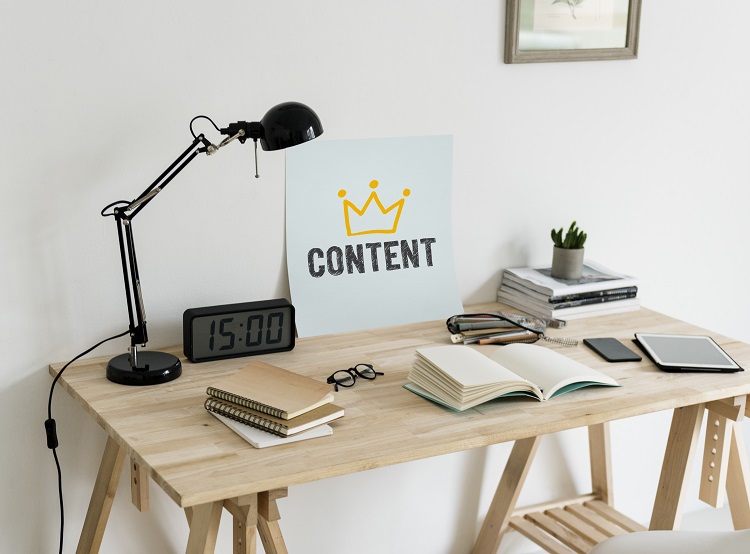 Is Your Audience Bored with Your Content?
Don't wait for traffic and engagement to drop. Look for signs of boredom in your audience early and change the direction of your content marketing to keep them interested. Here are the key signs that your content isn't compelling enough.
High Bounce Rate
The bounce rate measures how many visitors leave your site without interacting with it. While every website has a bounce rate, you don't want yours to be too high. The bounce rate varies by industry. Here are some broad averages for different types of websites against which you can benchmark your site.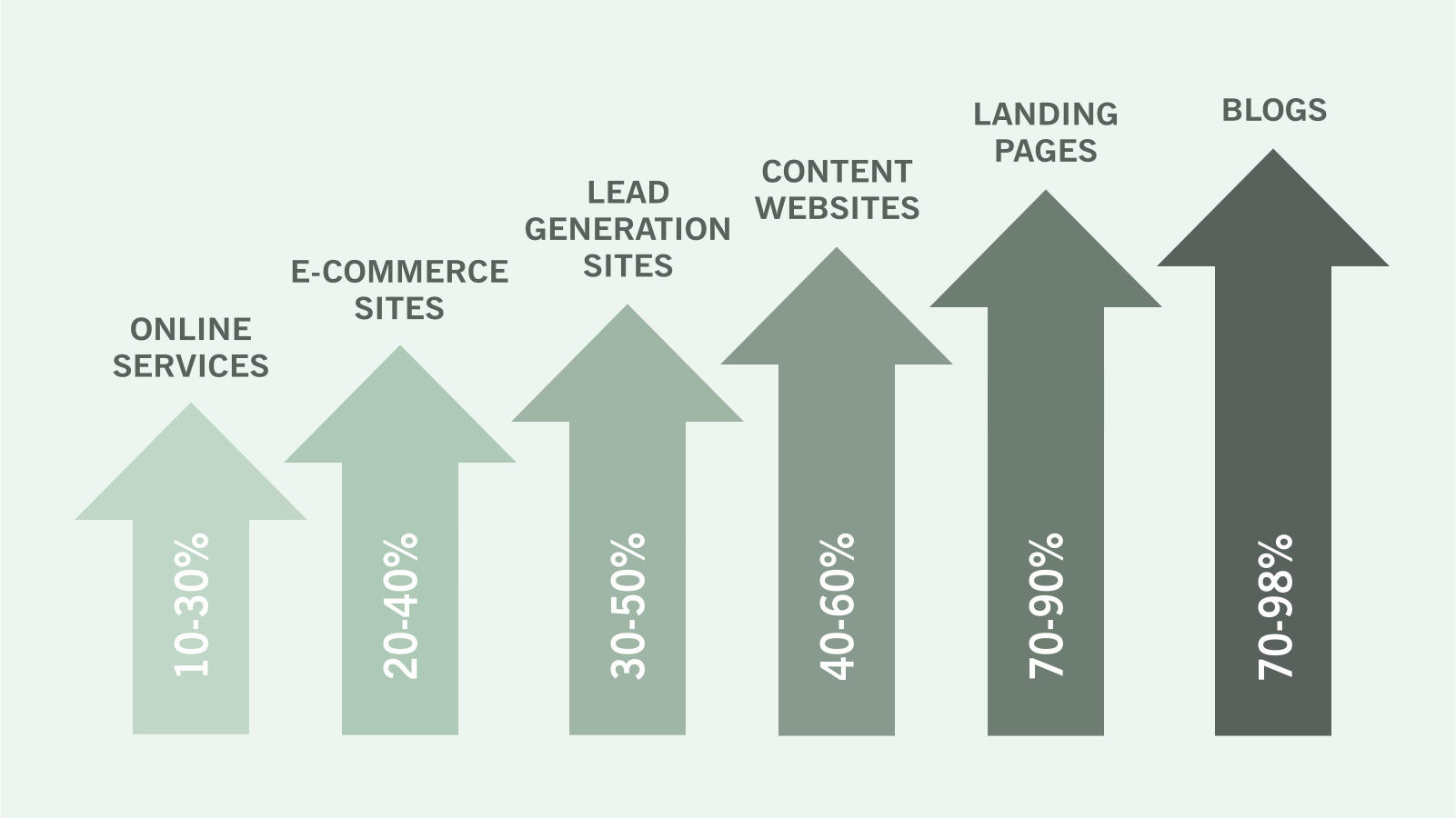 A 40% bounce rate means that 40% of visitors to that website leave it without clicking or tapping on any element on that site and without browsing any other page. It's the equivalent of a customer entering a shop, looking around, and leaving without buying anything.
No Comments
Getting few or no comments is a clear sign that your content isn't engaging people. Interesting content tends to generate a steady stream of comments. It often kickstarts discussions which can add to the appeal of your blog post or social media page and which may increase shares. Asking your audience questions or for them to share their impressions or ideas can help you generate more engagement. But it won't work unless your posts are interesting.
Few Shares
How many people are sharing your content across social media? If you're getting zero shares or only a handful per post, your content is not interesting enough. But what makes people want to share your content? Usually, content that's useful, funny, or inspiring gets the most attention. It makes people want to pass it along to their friends and family. The easy way to keep track of shares is to use sharing buttons with a share counter. You should also check your website analytics.
Subscriber Count Stagnating
Keep an eye on your blog and social media follower count. Do the numbers keep rising or not? A stagnating follower count is usually a sign that your content isn't delivering enough value. If your follower count is decreasing, you need to rethink your content strategy, and you need to do it fast. Check your following count regularly. Ideally, you want it to keep on growing after every piece of content you publish.
Drop in Traffic
Your website, blog, or social media page traffic levels can drop for a number of reasons, including seasonal trends, changes in demand, or intensive marketing from competitors. But while occasional dips in traffic are normal, consistently low traffic levels indicate a problem with your content strategy. Assuming it's not a technical problem, try to monitor traffic across channels, not just on your website. Do this over a reasonable time frame of at least one or two months to screen out seasonal variations.
What Makes Content Boring
If you notice two or more of the signs above, it's time to change your approach to content marketing. And the first step is understanding what makes content boring. There are many reasons why content fails to engage, but once you identify them, addressing them becomes easier. Here are the key ones, many of which you will easily recognize if you look at things from another perspective – from your audience's perspective.
Repetitiveness – Content doesn't add anything new to the subject, only rehashes the same old information. The sad truth is that the web is full of rewritten content that tells us nothing new. Your audience doesn't need more of it.
Staleness – The information provided is outdated or no longer relevant. The fast pace at which information travels on the web requires you to update your content regularly and show that you are up-to-date on industry developments and trends.
Self-Centeredness – Most consumers today prefer brands that focus on their experience, their needs, and their problems, not on how successful the brand is. If your brand is great, prove it with your products and services. You don't have to keep repeating it in your marketing.
Length – Content is boring when it's too long or too short. If you can say something in fewer words, there's no reason not to. But if you try to fit in a complex topic into just a few hundred words, the article may end up feeling shallow. And shallow content is often boring.
Lack of Diversity – Videos, infographics, slideshows, and interactive content – all these formats tend to have higher engagement rates than basic articles. Today, in the age of Retina displays, virtual reality, and smart voice assistants, serving your audience articles on a lean diet won't keep them engaged for long.
Poor Writing – Long sentences, the repeated use of the passive voice, jargon, and a low readability score on the Flesch-Kincaid test can render even interesting articles unappealing. When you don't have an in-house team of writers, you may want to consider teaming up with a content writing company to increase both the volume and the quality of your articles.
Lack of Emotion – Content that strikes a chord with your audience generates the most attention. According to neuroscience, emotions drive purchases, not logic. If your content is too detached, it may come across as boring regardless of the research or well-reasoned arguments that go into it.
Unappealing Presentation – On a web saturated with content, first impressions have never mattered more. Everything about your content, including the title, introduction, font, and images contribute to the first impression you make on your audience. You cannot leave any of this to chance.
How to Create Engaging Content
Creating fresh and interesting posts, infographics, and videos is a simple solution to avoiding boring content. More than a content marketing strategy, it's a way for you to refresh your online presence. If you have a brand, it can help you build a stronger brand identity.
So, what is engaging content? Here are a few examples of brands that do a great job of creating engaging content.
Surfing company Rip Curl's The Search is a great example of how storytelling, visual content, and tips can be woven together into an amazing content experience. This online publication dedicated to the surfing lifestyle has won the company millions of Facebook followers.
The restaurant finder app Zomato uses its Sneak Peek YouTube channel to share mouth-watering food videos with upbeat music and funny titles. Take this 18-second long "Baking the world a better place, Sneak Peek into the finest desserts" video.

Or take the playful, creative, and exciting videos that cosmetics brand Lush regularly posts on its Instagram page.
Talking of Instagram, a while ago BMW found an original way to celebrate 10 million Instagram followers and, at the same time, send an appreciation message to their audience.
What do all these examples have in common? They are direct, personal, and emotional – they connect with people. Also, they use visual content to grab attention and generate interest, and, of course, they target a specific audience.
Starting to feel inspired? Let's look now at a few practical strategies for making sure everything you post on your website, blog, or social media pages is fun and interesting. Learn more on how to do content marketing the right way.
1. Let Your Fans and Followers Choose the Topics
Do you think you know better than them what content they want and need? Think again. Many brands and content marketers start their content marketing campaign with preconceived ideas about their audience and their needs and expectations. Often, these are only inferences drawn from old marketing data. They don't reflect your fans' and followers' current concerns.
So, what can you do about it? Keep an eye on what they are saying about you on social media. Look at comments, discussions, and the content they create. Distill them and take snippets from them and let them inspire you to choose the topics for your next post.
This is a good alternative to researching keyword-based topics and one that can prove very effective when it comes to social media content marketing.
2. Do What Your Competitors Do Not
Don't wait for inspiration and don't settle for the same run-of-the-mill content strategies that everyone else is using. Keep an eye on your direct competitors. Monitor all their marketing channels. See what they are posting on their blog and on social media. The same thing as you? That could mean you're not being original enough.
Find the gaps in your competitors' content strategies. Are they posting videos and infographics, or offering free eBooks? What about slideshows, presentations, and webinars? Invest more energy into planning content types that your competitors are not using.
3. Get Your Audience Involved in Any Way You Can
Tag fans and followers in your content. Ask them questions directly. Add to your posts the trendy hashtags they use. Create response posts to the content they are posting and invite them to share photos of themselves using your product. Host contests on social media and give winners a reward they'll want to share with their friends. When the focus is on them, your content can't be boring.
Back in 2016, YouTube ran a cross-platform campaign with the hashtag #GuessThatVideo. As part of the campaign, YouTube recreated some of its most popular all-time videos using simple gifs and invited followers to guess the video.
It's #GuessThatVideo time! Who dis? 🐼 💨 pic.twitter.com/mtcm81lzOV

— YouTube (@YouTube) October 25, 2016
Heineken found an even better way to engage its audience with its Reinvent the Draught Beer Experience campaign. It invited people to submit ideas, images, and video to make draught beer more special and worth talking about. The challenge generated a strong response.
You can invite the same level of participation as these content marketing examples but on a smaller scale. You can ask people what types of content they would like to see more of on your Facebook or Instagram page. Or ask them to suggest topics for your blog posts. Use social media to ask these questions directly.
4. Create a Sense of Wonder
When's the last time you came across a truly spectacular post or image that made you stop and stare? It doesn't happen all that often. But when it does, it's priceless. And the best part for brands who pull this off is that it almost always establishes an instant connection between them and their targeted audience.
A stunning example comes from the World Wildlife Fund. A few years ago, the World Wildlife Fund mixed wonder with a sense of apprehension to create a stunning marketing campaign that included the following image:
This image proves why content marketing is important when you want to send a strong message.
5. Get Under Their Skin
Why keep your distance when you can touch people who follow your blog or social media page? Emotional marketing is an effective way to instantly connect with your audience and dispel boredom. It doesn't require an outpouring of emotion or too much space. It's more about focusing on the right emotions. Read more in our post about the power of emotional marketing.
Language proofreading and correction tool Grammarly uses Pinterest cards to make a boring subject interesting. Check out this creative example.
6. Video-Up Your Content
Take a case study or report and write an informative blog post about it. Boring, right? But then take the creative route and turn it into a snappy high-definition video. People are more likely to pay attention to it then. 20% of people will read an article but 80% will watch a video – that's how powerful video is.
As in person, so on the web, how you say something is just as important as what you say. Video grabs attention in a way that text cannot. And the best part is that you don't need to go out of your way to create compelling videos. You don't even need to have an in-house video production crew or video team. A video creation service can help you get started.
Whole Foods Market showcases how a simple video can make an otherwise banal announcement more powerful while highlighting the rich catalog of products they offer.
Engaging Content Checklist
How can you filter boredom out of your content and make sure everything you publish is worthwhile? It gets easier if you have a quick and simple process in place just for this. Something that allows you to run a quick check on your content. That's what this content checklist is all about it.
Check all your new content against this checklist to ensure you won't let your audience down.
Headline – The headline is engaging and makes people want to know more.
Intro – The intro is interesting, compelling, or fun and connects with the reader.
Visuals – There are enough images, graphics, and videos to make this content visually engaging.
Purpose – This piece of content serves a purpose: it educates, informs, solves a problem, or entertains.
Freshness – This content says something new or tackles an old topic from a fresh angle.
Utility – People have expressed a want or need for this specific type of content.
Value – After consuming this piece of content, people will get something useful out of it.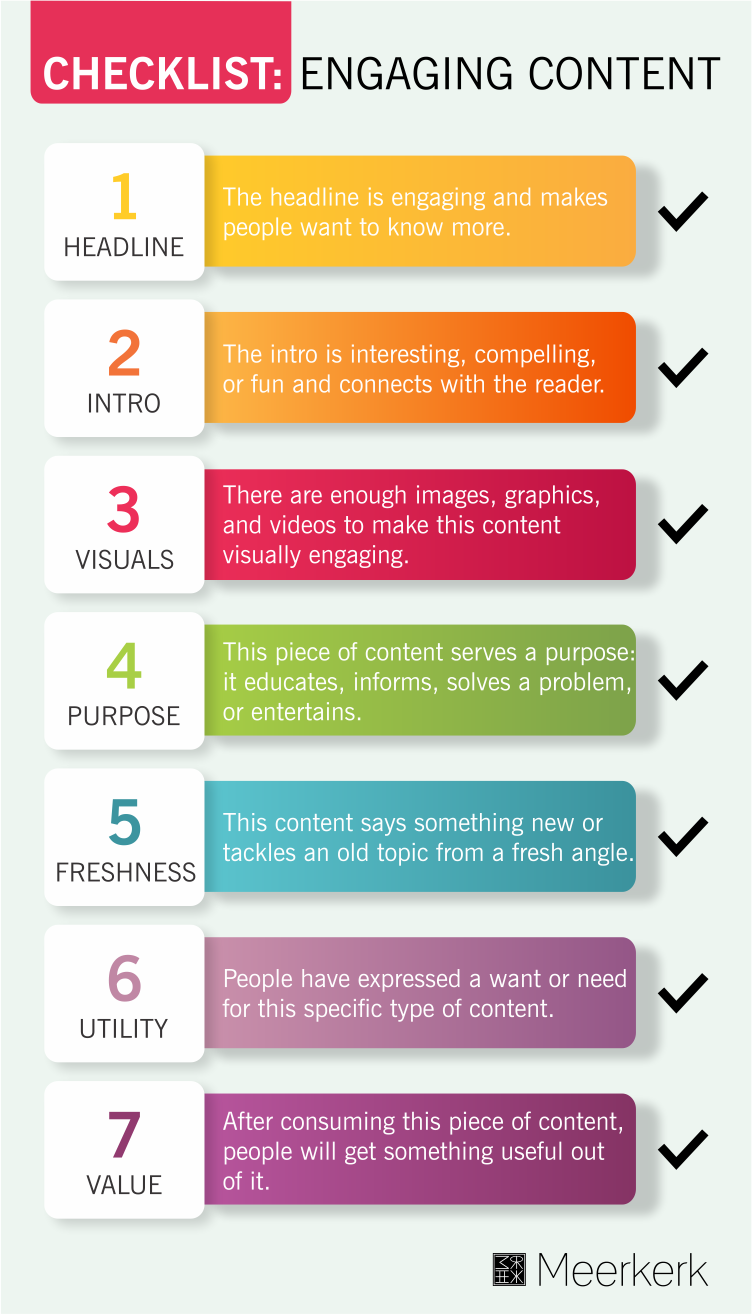 Over to You
Your online content doesn't have to be boring. It doesn't have to make visitors, fans, followers, and prospective clients indifferent to what you have to say. You can make every blog post, every article website, every Instagram image, and every YouTube video count.
When you avoid boring content, you show your audience that you value their time. You constantly seek out the topics that interest them and spend time crafting better headlines and better intros. But more than content, you create a richer user experience. You break through the conventions of marketing and online advertising and show that you are for real and that you care about them.
Life is too short for boring content, don't you think? Choose to make your content special now. Do it with your team or join forces with a content writing company.