Stop for a moment and consider this – what if half or more of your online content were videos?
Wouldn't your customers, fans, and followers love that? Wouldn't they pay more attention to your content and share it more eagerly?
For many of them, watching a video is probably easier than reading an article, and usually, it's more fun too.
Video is content marketing's answer to distracted audiences and information overload. After all, why write 1,000 words about your brand if you can distill your message into a 2-minute video?
The Power of Video
When you think about it, video creation is a kind of alchemy. You take a message, visuals, text, music, and a few other ingredients, and you mix them up into something creative that attracts attention right away.
When you do this, you show your audience that you value their time. You create a richer experience. And, in the process, you make your message more memorable.
But more than engaging viewers and stirring their emotions, video content has an inherent quality that contributes to its success – it's easy to share. Social media networks, news sites, and content aggregators may put Read More tags on your articles, interrupt them with ads, or surround them with distracting content.
But all of them present videos in a way that makes it so easy for viewers to succumb to their curiosity and press that nice and big Play button.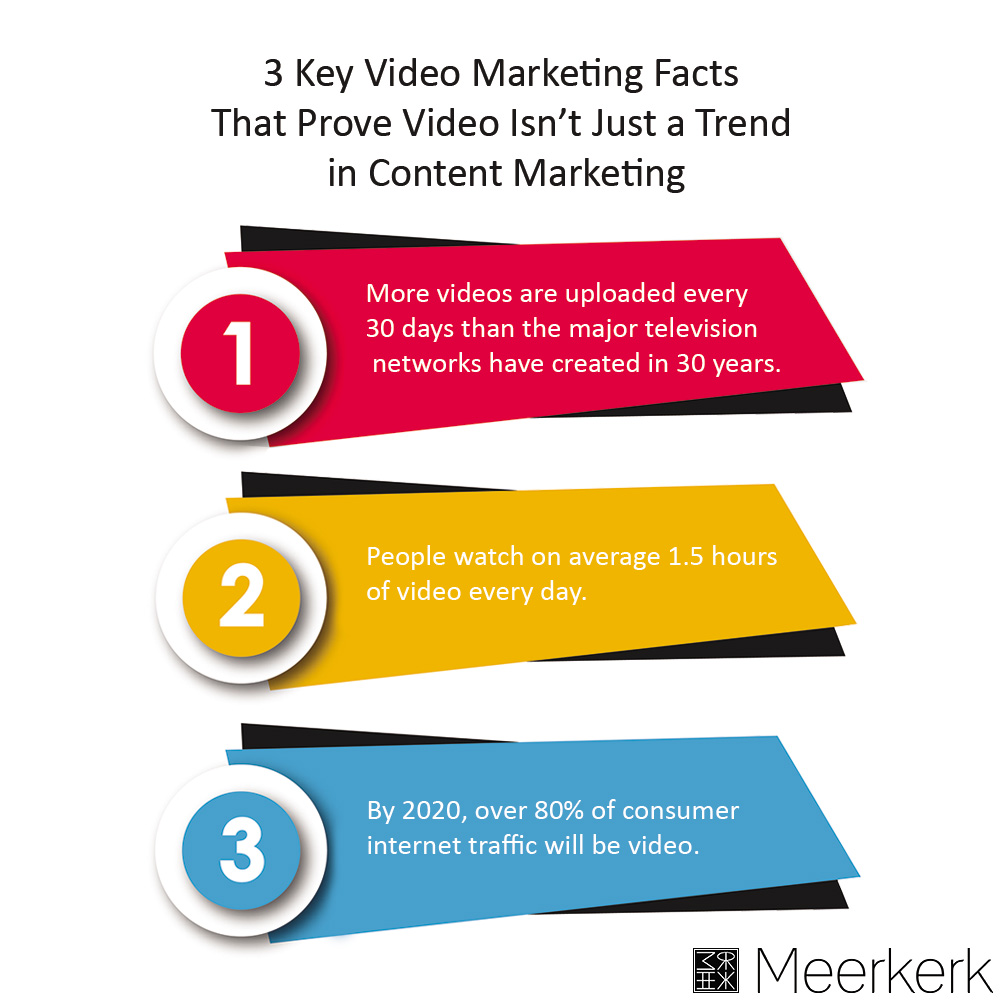 10 Reasons to Invest in Online Video Marketing
Whether you're running an online business or using the internet to promote a brick-and-mortar business, an engaging video could be one of the best investments you make for the next decade. So, why is video marketing important?
Video improves your business performance. It's a powerful business tool that can help you increase your return on investment. After watching a brand video, 81% of people buy a product or service.
People prefer video over text. Given the choice between reading about a product or service and watching a video about it, around 72% of people choose video.
It's easy to digest. Many consumers don't have time to read content anymore, but they have time to watch videos. Videos have the power to compress a lot of content into just a few ideas.
It's dynamic. Video makes your content more dynamic and helps you to create a richer and more engaging content experience across devices.
Boosts referrals. Video helps you spread your message – no less than 83% of consumers consider sharing a video they enjoy.
Makes your message more memorable. By combining visuals with sounds (and sometimes text), videos activate more parts of our brain than text or images alone. Viewers retain 95% of a message in a video – compared to just 10% when reading.
It's part of the furniture. Internet video has now made its way into many people's homes through Google Chromecast and Apple TV.
It's emotional. Video can have an emotional impact on the viewer in a shorter period, and when you are promoting a cause or having an emotional message, it can make a big difference.
It's clear and to the point. Video helps consumers understand what a brand, product, or service is all about in just a matter of seconds – a whopping 97% of marketers say video helped them increase customer understanding.
It enables you to sell your app or software. People are more likely to buy your software or app if they watch a video about it.

Do you know how much not doing video marketing is costing you? Watch this one-minute video to find out.

Online Video Marketing Misconceptions

If video content is so great, why haven't all marketers and business owners embraced it yet? There are still many misconceptions about online video marketing out there.

Misconception #1: "Articles are better for SEO."

Google ranks websites that feature video content better. Not to mention that you can optimize a video for search engines using meta descriptions. And if that's not enough, 76% of marketers say videos helped them increase their traffic.

Misconception #2: "Videos have a short shelf life."

While it's true that videos get lost in content streams, well-liked videos can endure for years on YouTube or Dailymotion and send a steady stream of visitors your way. Few types of content increase brand awareness better than videos.

Misconception #3: "An article can keep a visitor on my site longer."

Most web users today scan web pages rather than read them, hence very high bounce rates. By contrast, videos attract attention. They invite visitors and potential customers to learn more about you.

Misconception #4: "Videos are good for raising awareness but not for selling products."

Many companies today use short product videos to highlight their new releases or top selling products. Take for example the gorgeous iPhone 6S video ad below. But you can see results even with a simpler video.

https://www.youtube.com/watch?v=l96MQKwwHOE

Misconception #5: "I need a video production team."

You can always outsource videos to a professional video creation service. That way you don't have to create and maintain an in-house video creation team. Organizations around the world outsource their online videos to create more content at a better cost.

Misconception #6: "Video is expensive."

Some types of videos are expensive, but then you can focus on simple but no less effective videos. Audiences today value authenticity. Chances are your customers would prefer a straightforward and candid brand video over a stylized one that looks too much like a video ad.

How to Reduce Your Video Marketing Costs without Sacrificing Quality

Does the cost of video marketing hold you back? It shouldn't. You can do video content marketing on a budget without cutting any corners. There's no secret, only planning.

If you plan your video content and make the right choices, you can have your pie and eat it too. When you look at the long-term value of video content, online video marketing is not expensive unless you make it so. So, why would you?

The Best Video Marketing Strategy in 2019

Are you looking for a secret video content marketing strategy that can skyrocket your traffic, engagement, and conversions? Well, there isn't one.

Online video marketing isn't some global conspiracy initiated by a few maverick marketers who hold all the secrets to its success. And it isn't an easy path to a marketing bonanza either. Rather, it reflects the preferences of online audiences.

The best video marketing strategy is the one that offers your target audience the type of information or the kind of entertainment they want. And this is something that varies from one audience to another. If product videos work for Amazon, that doesn't mean they're the best type of video content for you.

Looking for some video marketing tips? Here's how to leverage video content using the six pillars of a successful video marketing strategy.

You can use the six pillars above to build a simple and concise video marketing strategy that can guide both your creative process as well as your video content distribution strategy. The specifics of your video marketing campaign may change over time, but your strategy summary will remain to guide you throughout your campaign.

Video Marketing Strategy Summary

So, What Types of Videos Should You Create?

Videos come in many varieties, but if you know your audience, choosing the right type of video should be easy. Some forms of video marketing are more expensive than others but don't forget that you can always reduce the length and tone down the special effects to create great videos even on a low budget. A cheap YouTube video creation service can make everything easier. And then, of course, there's Instagram video marketing.

Video Content Marketing Examples to Inspire You

With online video content marketing, you don't have to point the camera at someone. The simple but evocative Google, Evolved video narrates the evolution of Google in less than two minutes. At the same time, it highlights the power of using narrative in a video. This video is a product video, an ad, and an informational, all in one.

The ZenCash explanatory video explains in a minute and a half how their service works and what's in it for customers. The unique visual style makes this a very engaging video despite the relatively dull subject matter. It proves that video is great for making even a less than exciting topic look good.

With video, you can use music to move your customers to take action. This wonderful example from the popular music streaming service Spotify reminds us how music can change our mood in just a few seconds. The illustrations are not bad either.

Many marketers today have stopped selling brands to customers and have begun telling stories instead. After all, who doesn't like a good story?

Video helps you use visual storytelling to weave a short narrative around your brand and create a more memorable content experience.

And this process is not as complicated as you may think. Take for example one of our videos. By combining text with images and a few visual effects, we told a story in just a few slides.

As these video content marketing examples prove, video on the web can stir your audience's emotions and get them interested in what you have to offer. And because some of the best social media videos right now are short, you don't have to overspend on production.

Over to You

Your audience probably wants more video content. Will you meet their expectations?

There's never been a better time for you to embrace video content marketing than now. You may have created some video content already. Or you may not have found a place for video in your content marketing strategy yet.

Either way, it's time to consider the role that video will play in your marketing and how it can help you achieve your goals. An explainer video creation service can help you get started.

Neglecting video content could mean less engagement, fewer shares, and overall content experience that's too static for users who are bombarded every day with visual content. Embracing it could be key to growing your online presence.