Reading adventurous stories, fairy tales, fables, poems or even comic books before bedtime is an age-old tradition, a magical experience or a habit of sorts that has been passed on through generations in some families. Today, when children are growing up with smartphones, tablets, iPads, and YouTube, it may seem hard to keep the spark of this precious heritage alive. But don't give up on it or give in to a life full of expectations, obligations, and buzzing sounds. Don't say that there's never enough time.
Even if you didn't inherit the love for books and storytelling from anyone in particular. Even if you didn't have a parent who read to you before bedtime, or in the morning, or at any time. You can re-parent your inner child and dive into a world of endless possibilities, flying monkeys, runaway shadows, wood elves, magic potions, talking beasts, and utterly mad tea parties.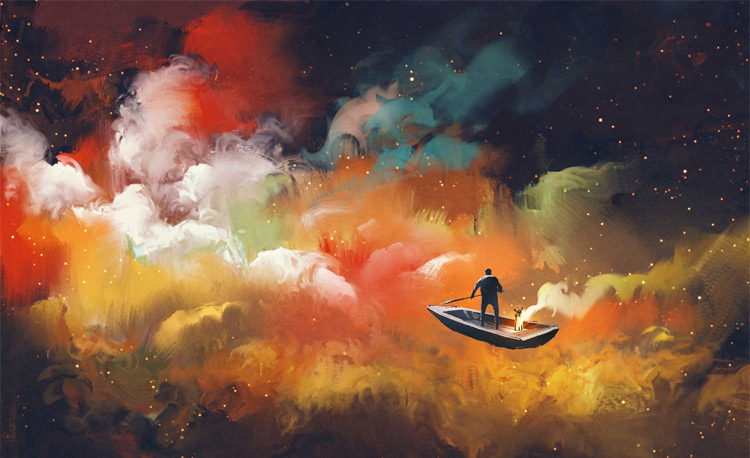 Children's Books Are Never Just for Children
Children's books are some of the most imaginative and entertaining books ever written. They are the playground for some of the world's best-known fictional characters – the Little Prince, Alice, Peter Pan, Tom Sawyer, Pippi Longstocking, Mowgli, and of course, Hobbits. Even if you haven't actually read the books that made these characters famous, you still know them. That's because they have long transcended their place of honor on the page and made it joyfully into our world.
"Don't just teach your children to read…
Teach them to question what they read.
Teach them to question everything."
― George Carlin
The great children's books are those that we encounter at least twice in our lives – first as children, and then again with our children. These are the books that are loved and re-read. Books that teach us to question gravity and look beyond the obvious. Paper-made time machines.
Following are seven immortals in children's literature and our personal favorites.
The Little Prince
"Draw me a sheep!" the Little Prince asks an aviator lost in the middle of the desert. The man learns, and we learn with him, that the Little Prince's request is much more important than it seems.
"And now here is my secret, a very simple secret: It is only with the heart that one can see rightly; what is essential is invisible to the eye."
― Antoine de Saint-Exupéry, The Little Prince
Shining with profound truths, The Little Prince is not only a delightful story but a book on how to live with and appreciate others.
Alice's Adventures in Wonderland & Through the Looking-Glass
If Alice's storybook had pictures, she would have probably never chased that hare into Wonderland. She would have never met the Mad Hatter, the Mock Turtle, or the Cheshire Cat. To say nothing of the Queen of Hearts.
"If I had a world of my own, everything would be nonsense. Nothing would be what it is, because everything would be what it isn't. And contrary-wise, what is, it wouldn't be. And what it wouldn't be, it would. You see?"
― Lewis Carroll, Alice's Adventures in Wonderland & Through the Looking-Glass
A make-believe wonder, Alice's Adventures in Wonderland are delightfully amusing. Make no mistake – Alice isn't just a book for girls.
Peter Pan
Peter Pan and Tinker Bell take Wendy, John, and Michael to Neverland, where they encounter the infamous Captain Hook. Surreal and whimsy, Peter Pan's adventures are darker and more serious than their Disney adaptations.
"All the world is made of faith, and trust, and pixie dust."
― J.M. Barrie, Peter Pan
Peter Pan is so self-absorbed that he can serve as a warning to spoiled little boys. We all should listen to Peter Pan. But we shouldn't do like him, no.
Pippi Longstocking
The "strongest girl in the world" has freckles. Lots of them. And she is nothing if not plucky. During her many and varied adventures, she makes fun of adults, and that's one of the many reasons we love her.
"You understand Teacher, don't you, that when you have a mother who's an angel and a father who is a cannibal king, and when you have sailed on the ocean all your whole life, then you don't know just how to behave in school with all the apples and ibexes."
― Astrid Lindgren, Pippi Longstocking
Pippi Longstocking never wanted to grow up, and we are grateful to her for that.
The Hobbit
Not all heroes are sword-bearing warriors. The hero of The Hobbit is nothing if not reserved. The Hobbit features Bilbo Baggins, Gandalf, Gollum, and the Middle-earth. It's an accessible introduction to one of the richest and most fascinating story worlds.
"Do you wish me a good morning, or mean that it is a good morning whether I want it or not; or that you feel good this morning; or that it is a morning to be good on?"
― J.R.R. Tolkien, The Hobbit
Although it's nearly 400 pages long, The Hobbit reads smoothly – Tolkien wrote it for his own children.
The Lion, the Witch, and the Wardrobe
When a magical wardrobe becomes a portal into another world, what follows is bound to be a great story. In this first Narnia book, Peter, Lucy, Susan, and Edmund journey for the first time into the world of the great lion Aslan. Narnia has a bit of everything – secrets, drama, mystery. Talking animals, too.
"He'll be coming and going" he had said. "One day you'll see him and another you won't. He doesn't like being tied down–and of course, he has other countries to attend to. It's quite all right. He'll often drop in. Only you mustn't press him. He's wild, you know. Not like a tame lion."
― C.S. Lewis, The Lion, the Witch, and the Wardrobe
The Wonderful Wizard of Oz
From a Kansas farm to a faraway magical world, by means of a tornado – that's Dorothy and her dog Toto in a nutshell. In her search for the Wizard of Oz, the only one who can tell her how to get back home, Dorothy meets the unforgettable trio – the Scarecrow, the Tin Man, and the Cowardly Lion.
"A heart is not judged by how much you love; but by how much you are loved by others."
― L. Frank Baum, The Wonderful Wizard of Oz
But why does she even want to get back home located in the middle of nowhere? Well, because "There's no place like home."