Launched in 1997 as an online DVD rental service, Netflix is now one of the world's largest digital media companies, with a market capitalization that exceeded those of its biggest rivals – Disney, Comcast, and AT&T. Available in 190 countries, the company's streaming platform currently has over 230 million subscribers globally. Netflix has managed to become a staple of popular culture, associate itself with the leading names in film and television, and build a brand with worldwide recognition.
The success of Netflix over the years can be attributed to numerous factors, ranging from the quality and convenience that the service provides to its availability, affordability, and ease of use. A lot of it was also the result of the company's excellent digital marketing strategy.
The Netflix School of Digital Marketing
Through all the ups and downs (Qwikster, anyone?), Netflix's marketing team has somehow managed to make all the right moves. Whether you're an experienced marketer or an up-and-comer, here are three important lessons about digital marketing that you can learn from the world-famous streaming giant.
1. Invest in Original Content
Although already a household name in the United States, Netflix was fairly unknown outside of its home country when it started expanding its services to other territories in 2010. The streaming service hit it big in 2013 with the debut of House of Cards, its first original series. Since then, Netflix has produced dozens of original series, movies, documentaries, and comedy specials that are only available on the platform.
In 2017 alone, Netflix invested $6.3 billion in content, the majority of which was spent to produce high-profile originals like Stranger Things, Mindhunter, and Narcos. The quality and exclusivity of this original content have helped the platform add more than 23 million new subscribers over that year.
At the same time, Netflix has reduced its spend on content from other providers, focusing almost exclusively on perennial favorites like Friends and Gilmore Girls that are sure to attract new subscribers. While some of these new users cancel their subscription once they've finished watching their favorite show in its entirety, many end up finding new favorites and extending their subscription for longer.
The Lesson: Original content is the main thing that sets you apart from your competitors. While there may be many other outlets that focus on the same topics as you, the originality and exclusivity of the content you produce will make or break your digital marketing efforts. One excellent piece of content is enough to grab the attention of your target audience, but only a steady stream of high-quality content will ensure that your audience sticks around.
2. Localize Your Content
Between July 2011 and January 2016, Netflix expanded into almost all territories in the world except for China, Crimea, Syria, and North Korea. To win audiences in these new territories, however, the platform had to offer more than just a selection of English-language movies and shows. The powers that be thus decided to team up with local talent in some of the largest markets and start producing original content.
International originals like Club of Crows (Mexico), Marseille (France), and Cable Girls (Spain) have all found audiences in their respective markets. At the same time, they have been just as successful in other markets, particularly the 2017 German-language original Dark. The show won a local TV award and became a surprise hit across the globe, with more than 90% of its viewers from outside of Germany.
As it turns out, the company had always planned for its international originals to have a global appeal. According to a 2016 interview with Ted Sarandos, Netflix's chief content officer, this would help the shows in question to make an impact on a much larger scale and allow the streaming platform to invest even more of its funds into foreign-language productions.
The Lesson: Whether you're catering to a single city or have your products and services available in multiple countries, it is important to create localized content that will appeal to audiences in each of your markets. You can achieve this by translating your content, teaming up with local influencers, or creating local search ads on Google Maps.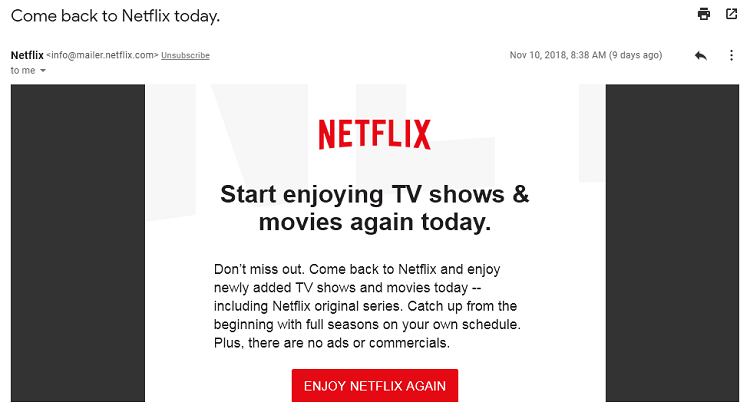 3. Don't Discount Email Marketing Just Yet
Few companies are as active on social media as Netflix. The company's social media strategists are posting announcements, sharing fun videos, and replying to fan messages on Facebook, Twitter, and Instagram around the clock. Netflix also has an official Giphy account with ready-made animated GIFs that fans can post on social media, add to their Instagram stories, or share using instant messaging apps.
In addition to social media, Netflix is also excelling in one area that many other digital companies seem to be neglecting – email marketing. If you don't watch anything for a day or two, you'll find a "Netflix tonight?" email in your inbox. When you log in to the website for the first time after canceling your subscription, you'll likely receive a "Come back to Netflix today" email. If you don't come back for a while, Netflix may even give you a free month when you click on the reactivation link in the email.
All emails sent by Netflix have one thing in common – they are personalized. The platform will use your viewing data, browsing habits, and thumb ratings to find the shows and movies that you might like. Netflix will highlight these titles in the email it sends you with the goal of getting you to click on one of the thumbnails, reactivate your subscription if necessary, and start streaming.
The Lesson: While social media is an essential component of every successful digital marketing strategy, your email campaign mustn't be a mere afterthought. Despite the growing popularity of other marketing channels, research shows that email marketing is still effective, with roughly 21.5% open rate (CTOR). To ensure the success of your campaign, your emails should be personalized as much as possible.
The Final Word
Despite increasingly tough competition and a gradual loss of third-party content, Netflix has managed to stay the undisputed streaming video leader. While many factors have contributed to this success, the company's foolproof digital content strategy is perhaps the most important. Marketers from all backgrounds can learn a thing or two by looking at Netflix's combination of high-quality original content, localization efforts, and multi-channel marketing strategy with a focus on personalized email campaigns.